Terramac announced a new feature for RT9 rubber-track crawler carriers: Each will come with GPS and a one-year subscription to On-Board Communications Inc. data tracking.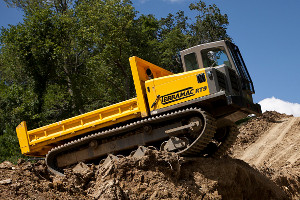 New Terramac RT9 crawler carriers will come with a GPS unit and a year of paid subscription service. Source: Terramac
Joey Giannetto, Terramac's fleet maintenance service manager, said the GPS system benefits operators by streamlining maintenance and other performance details among the manufacturer, rental dealership and end user. On Board's Activity Logging Technology collects real-time location details, and monitors run and idle time over a cellular network. The ALT can also track time operated under load.
Chuck Tholen, an On-Board Communications GPS specialist, said this will be a new application of GPS to many people. Without having it pointed out to them, he said they might not notice the equipment at first.
Data reports, Terramac says, reduce downtime because they allow technicians to better service the carriers in the field, rather than take them out of service for maintenance. Reports also help owners and operators maximize jobsite performance, the company says. A Web portal allows easy access to GPS reports and a mobile app is also available. Terramac says data can easily transfer to spreadsheet software to complement bidding or billing reports.
 Terramac is distributed by Rig Source Inc., of Elburn, Ill., which founded the company in 2011 to manufacture the RT9 rubber track crawler carrier. Rig Source rents and sells new and used drilling equipment and crawler carriers, and also offers parts and service. For more information, visit www.rigsourceinc.com or www.terramac.com.