Terramac now sells removable cleats for its RT9 carrier crawler unit for better traction in icy or snowy areas.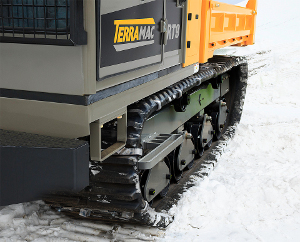 Terramac says the new cleats can help rigs maneuver on ice or in extreme mud conditions. Source: Terramac
"A customer was using the Terramac RT9 carrier on a pipeline job out east," said Mike Crimaldi, president of Terramac LLC. "In the winter, the snow gets packed into the tracks and makes it tough to get up steep inclines. Our team got together and created steel cleats that provide traction and are easy to install." 
The cleats bolt on and bolt off, and have no affect on the tracks' integrity. The company says they also work well in deep mud and other adverse ground conditions.
"We designed these cleats knowing that there may be a situation where the cleat is binding," said Joey Giannetto, Terramac service manager. "A different grade bolt was used to allow the bolt to shear. This not only protects the track, but reduces cost and downtime for the customer." 
Installation takes about an hour, depending on the number of cleats used. For best results, Terramac recommends 16 cleats on each track. The company suggests a minimum of eight per track.
Terramac is distributed by Rig Source Inc., of Elburn, Ill., which founded the company in 2011 to manufacture the RT9 rubber track crawler carrier. Rig Source rents and sells new and used drilling equipment and crawler carriers, and also offers parts and service. For more information, visit www.rigsourceinc.com or www.terramac.com.