Day zero events. Drought. The need for new water is so great in some places, anchor Brock Yordy argues we need to get over our aversion to "water recycling," and the ick factor people get when you start talking about putting treated wastewater back into potable circulation. It's episode 35.
"Recycled water is here. … We have droughts. We have extreme weather. We have large populations," he said. "We need to understand that this re-use process can become a very key process for us."
He says folks worry about treated water, but the fact is, treated water is often cleaner than the rivers or watersheds we now release it into.
This episode covers:
Silicosis, cancer and other jobsite exposure hazards
Public health and wastewater monitoring
EPA research grants for wastewater monitoring
Infrastructure Law funding for water projects in the U.S. West
Water reclamation and recycling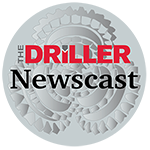 Click the right-hand menu for download options
Thanks for joining us. Tune in each Monday morning for the latest video or podcast. Whether you're at your desk or on the way to the jobsite listening in the truck, start your week with us. You can also find our show on Apple Podcasts and Spotify.
Drilling expert Brock Yordy is a regular The Driller contributing writer. Send news tips and interview suggestions to questions@askbrock.com.