Hayward Baker Inc. is an official contractor for the new Atlanta stadium project, slated to open in 2017.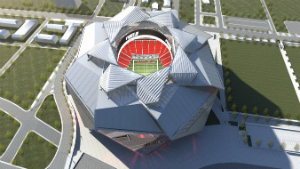 Hayward Baker will design and build piers to increase the allowable bearing capacity for a number of the foundations. Source: Hayward baker
It will serve as home for the Atlanta Falcons and a new major league soccer team.
"Hayward Baker is thrilled to have this opportunity to work with Reeves Contracting and the Joint Venture team consisting of Holder, Hunt, Russell and Moody on this exciting project for the Atlanta community," says Joe Persichetti, Hayward Baker vice president.
The geotechnical construction contractor will design and build 2.5-foot diameter Vibro Piers as deep as 27 feet. They will increase the allowable bearing capacity to 4,000 pounds per square foot for many of the foundations.
Before pier construction, a 2.5-foot diameter hole will be augered at each location with a hydraulic predrill rig. Then the hole will be backfilled with No. 57 stone. The vibrator will then be lowered to compress the lifts until the top pier elevation is achieved.
Proprietary data acquisition equipment will be used to keep track of penetration depth, time and energy parameters, and stone quality.
The foundations supported by the piers will be limited to less than ¾ inches and ½ inches of differential settlement between the supported footings.
The vibro pier modulus used in the design was confirmed by two modulus tests to 150 percent conducted before production. The plan is to finish in five weeks.
Hayward Baker has worked in ground modification and site improvement for 60 years, and offers a range of foundation support and rehabilitation services. For more information, visit www.haywardbaker.com.