Hayward Baker Inc. (HB) has promoted Ken Kniss from project manager to engineer at the company's regional office in Baltimore.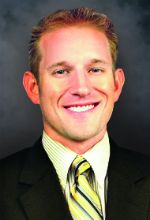 Kniss
Kniss will be responsible for delivering technical feedback and design expertise throughout the Northeast U.S. Region in his new position.
"Ken defines superior project execution and service to our clients," says Eric Droof, senior vice president of HB's Northeast region. "In his new role as engineer for our Northeast Region, he will share his best practices and depth of experience with all of our project managers to replicate success across Hayward Baker."
Kniss holds a B.S. in civil engineering and an M.S. in civil engineering with a focus in geotechnical engineering. He is a registered professional engineer in North Carolina.
In 2007, Kniss joined HB as a field engineer, and led quality control and safety efforts in the company's Greensboro, N.C., office. Three years later, he was promoted to project manager and ground improvement designer at HB's Greensboro office. There, he specialized in the design-build of Vibro Pier systems for various structures including wastewater treatment plants, universities, power plants, multi-family residential buildings and offices.
An active member of industry associations and organizations, including the American Society of Civil Engineers (ASCE), Kniss has presented at state and local ASCE conferences, and was a speaker for the 2011 DFI Soil Mixing Seminar in New Orleans.
HB, a Keller Group company, is a leader in geotechnical construction with 60 years of experience in ground modification and site improvement. HB offers a range of foundation support and rehabilitation services. For more information, visit www.haywardbaker.com.