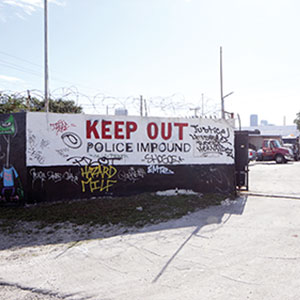 Columnist Porky Cutter returned from the South Atlantic Well Drillers Jubilee once to find out an entire water well drilling rig had disappeared. Source: iStock
In about 1976, our family (Porky, Bess, Piglet & Randy) was preparing to attend the South Atlantic Well Drillers Jubilee (SAWDJ) in Myrtle Beach, S.C. We usually would just shut down during that time. However, our employees wanted to work so we lined them up some wells to drill.
The guys were moving a rig from one site to another and while going up a hill on the highway, the U-joint broke. Of course, the rig stopped. Looking in the rear view mirror the operator saw the driveshaft lying on the highway. Not a big problem at this point … the operator just needed to pull the emergency brake, right? Wrong. Back then, the emergency brake was a part of the truck transmission output shaft. Therefore, no driveshaft, no emergency brake.
The operator jumped out of the rig and ran back down the hill to pick up the driveshaft before someone ran over it. He immediately heard something … the rig was headed downhill toward him. He managed to get out of the way and the rig passed him traveling backwards. The rig ran into a ditch with the back driver's side breaking some hydraulic lines. Other than the broken and leaking hydraulic lines and the broken U-joint, there wasn't much other damage.
However the rig mast was sticking out across the highway and if someone came over the hill they may not have seen it until too late.
Since there were only two employees, they unhooked the pipe trailer and drove the pickup back to the previous jobsite to pick up the support truck. It had a winch and was big enough to pull the rig out of the ditch. However, they didn't put anything at the top of the hill to warn of the pending danger.
Someone notified the sheriff of the accident and he immediately checked it out. Finding no one at the jobsite and no name or identification on the truck, the sheriff had the rig hauled to his compound lot.
Our employees had no idea where our rig was when we returned from attending the SAWDJ. We went to the accident site and the only thing we found was a trail of hydraulic fluid leading us to the sheriff's compound.
This was not our county sheriff but a county nearby. When we contacted the sheriff, we found out he was on vacation and wouldn't return for two weeks. The sheriff's department was advised not to release the rig until we told the sheriff exactly what happened. Once the sheriff returned, I told him what happened and he released the rig.
From that day forward, when we attended the SAWDJ we put the drilling business on hold.
Oh, did I mention this incident happened in south Georgia?