I grew up on a well drilling rig with my dad. My sons grew up on a drilling rig with me. Our grandsons didn't have that same opportunity but they must have inherited our genes because they too have the same mechanical ability. They can make and build anything mechanical. As we all say, "It's a Cutter Thing." Growing up with my sons, we built go-karts, dune buggies, motorcycles, rebuilt snowmobiles, Amphicars (combination boat and car) and drilling rigs. My wife, Bess, was right in there with us with her ideas and handing us tools.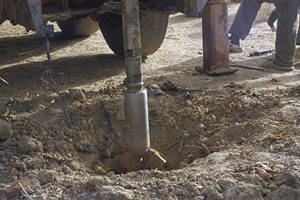 The Cutters have pooled three generations of experience into a well drilling consulting business.
Our eldest son Randall, "Randy," can service, repair and operate any type of equipment.
Our youngest son Chris, "Piglet," like me and his brother, can likewise service, repair and operate any type of equipment. However, today he prefers to follow my footsteps, teaching all types of well drilling internationally. He's single and therefore available to travel anywhere for extended periods of time. In 2014, Piglet was in Nigeria teaching cable tool drilling. In 2014, he was in Tanzania for five months teaching cable tool drilling and as I write this he is in Haiti teaching air rotary drilling. In 2015, he has plans to return to Tanzania, Nigeria, Ethiopia, Uganda and other places in Africa teaching drilling for our company, Drilling Consultants International, Training Division.
We are forming a well drilling institution. We will be offering students internationally the opportunity to learn any and all types of drilling, pump installation and service, and equipment maintenance and repair. This will involve hands-on experience. Our instructors are the tops in the industry. The head instructor will be myself, a certified Master Ground Water Contractor (MGWC). Chris "Piglet" Cutter, the youngest person, at the age of 13, to be a Certified Well Driller and Pump Installer (CWD/PI), will lend his expertise. Our grandson Howard A. Cutter will be coming on as a specialty drilling and mechanical instructor. Randall, "Randy," another Certified Well Driller and Pump Installer (CWD/PI), will be our special part-time instructor. Our plans are to have this institution accredited.
An update on Piglet's recent contract in Tanzania: He agreed to go for his expenses for 30 days. However, when you work for free the recipients see no urgency. They delayed furnishing funds for food, supplies, suitable transportation, fuel for operating the drill and to pay his three trainees. The 30 days extended to five months … with very little pay for his efforts. Piglet wanted to complete at least one well, which he did. When it was completed and pumping water, Piglet returned to his Virginia base. Five months to drill only one well!
Shortly after Thanksgiving, Piglet went to a small island near Haiti to drill and teach air rotary drilling. This is a for-pay contract for a month-and-a-half to drill 30 wells. The rig had been sitting for a couple years and required replacing several hydraulic seals and overhauling the fluid injection pump. Even with the delay, waiting for repair parts from the United States, he has drilled three wells in 15 days. We believe this contract may be extended for a time.
This church organization's drilling project is sufficiently funded and has the proper planning and support. Except for the delays for repairs, it is going as planned.
When Piglet returns from Haiti, his intention is to write a detailed story of his experiences in Nigeria, Tanzania and Haiti, so keep watching for his articles in the National Driller.
---