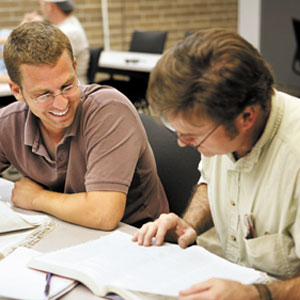 Continuing education program credits can help a drilling business maintain the quality of service that customers expect and demand. Source: iStock
Many times, I've been contracted by companies to critique their business, crews and equipment. I spend time in the office, I travel with the field crews for a few days and then I provide an evaluation to the company.
I asked one client if he ever spot-checked his crew while on-site. He responded, "What would I know about it?" (He knew nothing about drilling.) I asked him if he could play a piano. He said, "What's that have to do with anything?" I said, "You know if it's being played right or not!"
This owner never spot-checked his crews so they would finish a job by noon and just hang out. Then they would call in around 2:00 p.m. that they had finished—knowing it would be too late in the day to start another job elsewhere—and were usually instructed to head back to the base. A few times, I observed the drill crew racing the drills and support trucks back to base. These were good employees and they got a lot done, but if the owner/supervisor doesn't show up "unannounced" occasionally, they know that no one will be spot-checking them. So who cares?
From that time forward, the owner would stop by a jobsite unannounced and ask the crew how the job was going and what they needed. This increased the crew's attitude and production.
I was an inspector on a drill site where the contractor had two drills drilling geothermal loops. They were having a lot of problems with the holes and the equipment, and the drill crews were frustrated. I advised my employer that no one ever checked on the crews to see what the problems were or if they needed anything. I'll say it again: If the owner doesn't care, then who does? My comment got back to the owner and he advised me that he had 25 drills and didn't have time to check on each rig. I told him that I thought he had 24 rigs too many.
Recently, I was made aware of a large company with several crews working at different locations. Once again, these owners never bothered to spot-check their crews. The in-the-field business was run and supervised by one man—"a bully with an attitude." The employees knew that if anything went wrong, they would be blamed. When an employee complained to the owners, the owners just advised the employee that he would have to work it out with the field supervisor. Many good employees quit knowing nothing would ever change. Every company should have a "chain of command" if they expect to prosper. I predict that this company will continue to have a larger employee turnover than a fast food joint.
Many readers know that my son "Piglet" and I present continuing education program certification hours for drillers to maintain their well driller and pump installer licenses. We are currently authorized to present these CEPs for several states and are actively being approved by more states.
When there are 10 or more people needing CEPs, we offer the option to travel to the drilling company's location and present our class. This eliminates the necessity of having to send employees somewhere, costing time off the job, travel, lodging expenses and meals for several people. Plus, they really learn something about drilling and pump installation, and not just a product. We teach what can't be found in books: experience.
Don't allow your licenses to lapse! They are becoming harder to get reinstated. Pay the fees and get your CEPs somewhere before they are due.
 Remember the three P's of business: Positive Production = Prosperity.
 For more Porky columns, visit www.thedriller.com/porky.