Thompson Pump & Manufacturing Co. moved their Mississippi facility to Biloxi from Pass Christian, the company announced.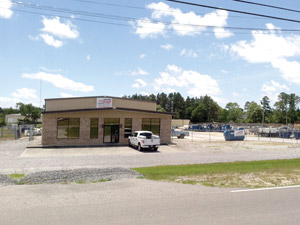 The Biloxi, Miss. office will feature Thompson's full line of sales and rentals. Source: Thompson Pump & Manufacturing Co. 
 "This move is welcomed by our staff as they continue to face increasing rental and sales demands in the Gulf region," said Johnny Britt, Thompson Pump Gulf Coast regional manager.  "The new and improved location provides for increased growth and will enable us to enhance our commitment to the highest quality customer service."
The new location has 4,000 square feet and sits on 2 acres near Interstate 10. The company says the new Biloxi branch office will better accommodate growth in its southern Mississippi and lower Alabama service areas.
John Thornton will manage the branch and Todd Cedotal will head sales. The office will offer the full line of Thompson products and expertise in dewatering, bypass and specialized pumping applications, especially emergency response to hurricanes and flooding.
Thompson—family owned for 43 years—manufactures a wide range of pumps ranging in size from 2 to 18 inches and with capacities up to 14,000 gpm. The Florida-based company sells and rents its entire line to customers in sectors including public works, construction, agriculture and mining. Thompson also provides engineering and consulting services, as well as training.
The company operates 21 branches throughout the United States and has a worldwide network of distributors. It also has achieved ISO 9001 quality certification for their Port Orange, Fla., manufacturing facility. For more information, call 800-767-7310 or visit www.thompsonpump.com. To contact the new Biloxi office, call 228-392-0870.