Missouri-based Hammer & Steel now sells and rents the Junttan PM16 and PM25 piling rigs, the company recently announced.
The company's website calls the PM16 a "compact and agile" rig that offers excellent mobility and stability. The PM25 "efficiently combines modern manufacturing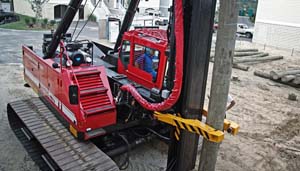 Hammer & Steel calls Junttan's PM16 rig "compact and agile."

Source: Juntta

n
technologies and materials for further enhanced reliability, versatility and performance," Hammer & Steel said in a news release announcing the updated product line.
Both the PM16 and PM25 feature a telescopic leader, expandable tracks, a low center of gravity, and a hydraulic system adaptable to hammer, rotary head and vibrator applications. Powerful engines and winches round out the package.
Product materials from Junttan tout "common-sense design and strict adherence to quality of construction."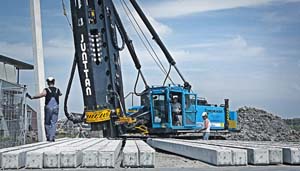 Junttan's PM25 is part of a line of piling rigs the company started in 1979. Source: Junttan
Junttan—a Finnish company—was founded in 1976 and produced its first hydraulic piling rig in 1979. It specializes in design and manufacture of hydraulic piling equipment and rock drilling accessories. Junttan employs 130 people and the company's equipment is at work in 45 countries.
Hammer & Steel has a full lineup of pile driving equipment, drill rig tooling, drill rigs, piling rigs, monitoring devices and other equipment. It also offers used pile driving equipment, as well as steel piling products. The company, which has headquarters near St. Louis, maintains locations in California, Florida, Kansas, Maryland, Minnesota, Missouri, New Jersey and Texas.
For more information, product brochures or to see videos of the Junttan rigs at work, visit www.hammersteel.com. For more information about Junttan, visit www.junttan.com.