Anchor Brock Yordy this week wraps up his talk with geothermal industry expert Garen Ewbank of Ewbank Geo Testing. Plus, in this week's safety segment, we look at an alarming rise of trench fatalities in the United States.
Ewbank, an IGSHPA-accredited installer and trainer, expects big things for geothermal in the near term as New York and other states push to reduce their carbon footprints.
"There is just going to be an enormous demand," he says. "The engineering companies I'm working with throughout the United States, all of them have hiring needs right now. The drilling contractors I'm working with, they have needs for hands at all levels."
This episode covers:
Rising trench fatalities in 2022
Tips for trench safety
How "net zero" electrification efforts can benefit the geothermal drilling industry
The state of geothermal in 2022
The benefits of geothermal HVAC
Poly-modal heat pumps
Demand for geothermal drillers and rigs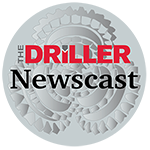 Thanks for joining us. Tune in each Monday morning for the latest video or podcast. Whether you're at your desk or on the way to the jobsite listening in the truck, start your week with us. You can also find our show on Apple Podcasts and Spotify.
Drilling expert Brock Yordy is a regular The Driller contributing writer. Send news tips and interview suggestions to questions@askbrock.com.