In episode 20, anchor Brock Yordy talks to geothermal industry experts Garen Ewbank of Ewbank Geo Testing and Jay Egg of Egg Geo. In this week's safety segment, we remind equipment operators of the risks of working alone on a jobsite.
Ewbank, an IGSHPA-accredited installer and trainer, talks about what he and others see as a sunny horizon for geothermal.
"We have a new thing starting, and it just happened in New York last week. Gov. [Kathy] Hochul signed into law the ability for utilities to own ambient temperature loop or thermal districts. That is a monumental change for our industry. Other states will follow suit," Ewbank says. "… Utilities, particularly the natural gas utilities that think they're going to lose sales, they can come in with an ambient temperature loop or a community loop — whatever you want to call it, and they'll have a customer that'll last a lot longer than their natural gas system customers."
This episode covers:
The risks of working alone with machinery or heavy equipment
How "net zero" electrification efforts can benefit the drilling industry
New York's Utility Thermal Energy Network and Jobs Act
The Ball State University geothermal project
The importance of test holes on large drilling projects
Demand for geothermal drillers and rigs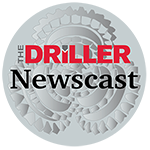 Thanks for joining us. Tune in each Monday morning for the latest video or podcast. Whether you're at your desk or on the way to the jobsite listening in the truck, start your week with us. You can also find our show on Apple Podcasts and Spotify.
Drilling expert Brock Yordy is a regular The Driller contributing writer. Send news tips and interview suggestions to questions@askbrock.com.