Roving anchor Brock Yordy spent some time at the 2023 AHR Expo, Feb. 4-8 in Atlanta. While at the major HVAC event, he talked to several experts about geothermal and opportunities for drillers. Here, he speaks with Jay Egg of Egg Geo and then Jeff Hammond, executive director of IGSHPA. Then, in this week's safety segment, he talks safety metrics and policies.
This episode covers:
Jobsite safety metrics like total recordable incident rate (TRIR)
Safety policies like standard operating procedures (SOPs) and job safety analyses (JSAs)
Residential and commercial tax incentives for geothermal from the 2022 Inflation Reduction Act
The Residential Clean Energy (RCE) Credit for qualified clean energy expenses
Electrification and geothermal's role in it
Geothermal as a way to "flatten the spike" in daily energy consumption
"Thermal energy networks" and large-scale geothermal HVAC
The 2023 AHR Expo in Atlanta
The International Ground Source Heat Pump Association (IGSHPA)
Opportunities for drillers in geothermal HVAC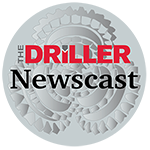 Click the right-hand menu for download options
Thanks for joining us. Tune in each Monday morning for the latest video or podcast. Whether you're at your desk or on the way to the jobsite listening in the truck, start your week with us. You can also find our show on Apple Podcasts and Spotify.
Drilling expert Brock Yordy is a regular The Driller contributing writer. Send news tips and interview suggestions to questions@askbrock.com.