Drillers are, of course, familiar with water supply: You drill a hole, water (hopefully) comes out. But what about demand? In episode 13, anchor Brock Yordy has updates on the global water crisis, plus celebrates student winners of DOE's 2022 Geothermal Collegiate Competition.
"The rate of global aggregated groundwater storage depletion is considerable," Yordy says. In this episode, he discusses the implications of large withdrawals from our global water banks.
This episode covers:
Getting your focus back on work after a holiday weekend
Department of Energy's 2022 Geothermal Collegiate Competition awardees
DOE recognizes businesses for water, energy reduction goals
Improving energy efficiency in homes
Aging water compacts between states in the U.S.
Aquifer discharge and recharge
The future of groundwater regulation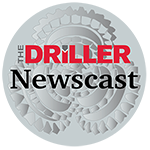 Thanks for joining us. Tune in each Monday morning for the latest video or podcast. Whether you're at your desk or on the way to the jobsite listening in the truck, start your week with us. You can also find our show on Apple Podcasts and Spotify.
Drilling expert Brock Yordy is a regular The Driller contributing writer. Send news tips and interview suggestions to questions@askbrock.com.