In episode 5, anchor Brock Yordy talks about safety before the job and the bottled water industry in the Great Lakes states, then interviews driller Mike Steffan of Steffan Well Drilling.
Steffan's Teeswater, Ontario, company does water well drilling, dewatering and downhole services.
"Every drill style has its place," Steffan says. "When I went on my own, I bought an old Bucyrus rotary."
This episode covers:
Site assessment before setting up a drill rig
Safe operation of heavy equipment in adverse weather
Driving safety
The Great Lakes Compact
Mental health in the construction and drilling industry
Public Trust doctrine
Mud rotary drilling in Canada
Dual rotary drilling in Canada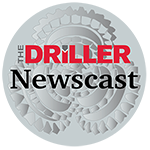 Thanks for joining us. Tune in each Monday morning for the latest video or podcast. Whether you're at your desk or on the way to the jobsite listening in the truck, start your week with us.
Drilling expert Brock Yordy is a regular The Driller contributing writer. Send news tips and interview suggestions to questions@askbrock.com.