In episode 11, anchor Brock Yordy talks about recent trench-related fatalities in construction, then interviews Tom Howe of Western Michigan University's Hydrogeology Field Course.
The program at WMU in southwest Michigan introduces students in geology and other fields to drilling through field instruction and demonstrations.
"If there's one thing that they can take away from the courses they have with me is to learn to be critical thinkers and to use all that they've learned to be a force for good," Howe says.
This episode covers:
Hand safety on drilling jobs
Using gloves specific to the drilling or construction task
Clean-energy efforts in Vermont
Connecticut plans to go carbon-free by 2040
Geothermal drilling's role in clean-energy efforts
Legal action over a 2016 Little Missouri River oil spill in North Dakota
PFAS lawsuits over fire-fighting foam in Wisconsin
Recent trench fatalities in the U.S.
Trench protection systems and trench collapse
When is a construction jobsite decision negligence?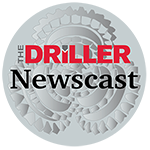 Thanks for joining us. Tune in each Monday morning for the latest video or podcast. Whether you're at your desk or on the way to the jobsite listening in the truck, start your week with us. You can also find our show on Apple Podcasts and Spotify.
Drilling expert Brock Yordy is a regular The Driller contributing writer. Send news tips and interview suggestions to questions@askbrock.com.