Over the last 30 years of my career, I have seen a dramatic shift in the safety requirements in the water well/environmental drilling industry. Thinking back to my first day in the field, the safety instructions were — "here's your hard hat, do you have steel toed boots? Don't get hurt." The drilling industry has certainly progressed since 1984. Now, most companies have embraced a safety culture and have implemented policies and procedure focused on workplace/worker safety.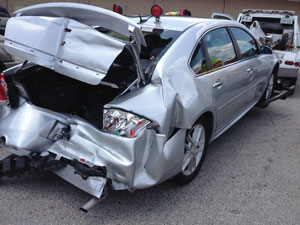 Winter may be winding down, but it's still worth it to think about safety on the road as you go to and from the jobsite. Source: David S. Bardsley
Before we can work at many sites, or for specific consultants/owners, drillers may need to complete massive safety prequalification forms. Some large companies that hire drillers, like general contractors, oil companies and consulting engineers, have even outsourced their prequalification process to third party companies like BROWZ, PICS and ISNetworld. Once we get past the safety qualification process, employees are required to attend training classes and be qualified to work on equipment at the jobsite. We have daily tailgate safety meetings to discuss the hazards of the work to be performed during the shift and we complete reams of paperwork, all in the name of safety.
I have been a part of hundreds of daily tailgate meetings. Most of these pre-shift meetings are well structured and detail the hazards involved in the work. We have discussed housekeeping, hand tool use, slips/trips/falls and many other pertinent issues that can be a hazard. However, the one thing we rarely discuss is the most dangerous part of the work — driving to and from the jobsite.
According to 2013 Bureau of Labor Statistics figures, highway travel claims more lives than any other work related activity. That's right, our odds of dying driving to or from work are far greater than any other activity on the jobsite. I'm in sales. Much of my time is on the road seeing clients. My topic this month is kind of personal: pictured is my rental car from a recent trip to Houston.
Enough about me. Now that I have your attention, let's review some winter driving tips.
Before you get on the road, perform the required equipment checks, not only for your vehicle, but for you as the driver. Every company has a pre-trip inspection. Winter driving makes this inspection all the more important. Along with the standard pre-trip, check out your wiper blades; snow and ice can play havoc with your windshield. Make sure your windshield washer reservoir is full of antifreeze liquid. Mud flaps are important also, since large trucks can throw tremendous amount of road slop (ice, mud, salt) into the air. A shovel, sand or kitty litter, and tow cables will come in handy if you get stuck or need to assist someone else who has run off the road.
Now do a pre-trip on you the driver. Are you rested and alert? Do you have a route plan in place taking into account possible winter weather? Have you driven the vehicle in snow and ice conditions in the past? Have you scheduled enough time to complete your journey? Stop and take a few minutes to review and plan your trip.
Once you are on the road in winter conditions, SLOW DOWN. This is the single most important winter driving tip available. Not only is our visibility reduced by winter weather conditions, snow and ice dramatically increase stopping distances. We all have seen the recent multi-vehicle accidents on the news and YouTube — SLOW DOWN.
Other winter driving tips from "askthetrucker.com" include:
Have your rig "winterized" by a professional technician.
Carry a few gallons of a fuel treatment product to prevent the diesel from gelling.
Carry extra blankets … enough to keep you warm in case you get stranded.
Carry a supply of "energy food" such as energy bars, etc., and water.
Keep the fuel tanks as full as possible, especially before crossing a mountain pass or similar terrain.
Allow extra distance between you and the vehicles ahead of you.
Check the weather forecast ahead of you BEFORE you head out.
Avoid using cruise control.
PLAN AHEAD. Know where truck stops are ahead of you on your planned trip, so you can make the appropriate stop should the weather turn really bad.
We obviously can't consider all of the winter driving tips and techniques in this column. But as we discussed above, the most dangerous part of our job occurs during travel to and from the project. Take some time during your next tailgate safety meeting and discuss safe driving practices. Who knows? The life you save may be your own.
---
David S. Bardsley is business development manager for Directed Technologies Drilling. For more Bardsley columns, visit www.thedriller.com/bardsley.