The LS400T+ drill rig is the newest addition to the Little Beaver Lone Star Drills line, made for water well and geothermal drilling in the most challenging soils.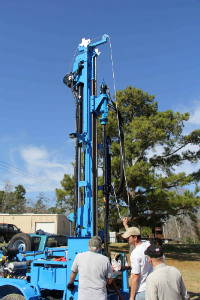 The LS400T+ drill rig was originally designed to meet the needs of a non-profit drilling water wells in tough formations in Central America. Source: Little Beaver
The new drill rig is much heavier than the next largest rigs, making it easier to power through the toughest soils, including lava and solid rock formations.
The model was initially created to meet the needs of a non-profit in Central America conducting water well projects. They kept getting stuck trying to drill through compact volcanic rock and boulders. "With the robust, heavy-duty design of the LS400T+, and the longer pipe sections that can be used with the unit, teams can quickly drill through the challenging rocky and gravel-type soils in that region," says Joe Haynes, Little Beaver president.
The LS400T+ offers 15,000 pounds of pullback force, weighs 7,700 pounds and has a push-down force of 9,000 pounds. The drill that can dig to depths of 400 feet, nearly 100 feet deeper than the next largest model. It can be towed with the same vehicles that drill teams use to haul smaller drill rigs.
The trailer features surge brakes, three hand jacks for leveling and can be fitted with either a pintle ring or ball hitch. It also features a Gorman-Rupp 82H52 2x2 mud pump with three-way ball valves and dual 10-foot suction hoses. The pump is powered by a 37-horsepower V-Twin, air-cooled gasoline engine that has a 22-gallon fuel tank capacity.
Drill teams can quickly reach target depths because the rig accommodates a 10-foot drill pipe. Little Beaver also added features to make pipe management easier.
"We paired the 10-foot drill pipes with an automatic breakout to streamline the drilling process, and with the 300-foot pipe rack capacity, drill teams can transport their drill pipes to drilling locations," Haynes says. "A lot of rigs don't offer that benefit."
For more information, visit www.littlebeaver.com.