Hayward Baker has appointed Ghassan Akrouch to the design engineer position at the company's regional office in Tampa, Fla.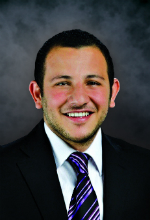 Akrouch
"Dr. Akrouch comes to us with strong technical capabilities and relevant work experience," says Curtis R. Cook, Hayward Baker vice president. "Equally impressive are his work ethic and communication skills, which make him a great fit for Hayward Baker."
Akrouch began his career as a geotechnical design and site engineer for the International Institute of Geotechnics and Materials (I-IGM) in Beirut. He was responsible for preparation of geotechnical design supports, analysis of geotechnical laboratory and in situ test data, foundation design of tall buildings and bridges, and design and supervision of earth retention systems.
He earned a bachelor's degree in civil engineering from the Lebanese University in Roumieh, Lebanon and a Ph.D. degree in civil engineering from Texas A&M University.
While studying in Texas, Akrouch earned the Texas A&M Energy Institute ConocoPhillips Fellowship, for excellence in geothermal foundations research.
"Dr. Akrouch's welcome addition to our engineering team adds another layer of technical expertise to an already talented group, and allows us to better offer our clients efficient, high quality solutions for their projects," says Edward Garbin, Hayward Baker southern region chief engineer.
Hayward Baker, a Keller Group company, has worked in ground modification and site improvement for 60 years, and offers a range of foundation support and rehabilitation services. For more information, visit www.haywardbaker.com.