I have a soft spot for human achievement. We engineer, drill and tunnel ourselves out of some of the hardest problems imaginable. This month, we write about a project that installed a pipeline for brine under the Mississippi River. Think about that: In Louisiana, the river averages about a mile across. Drillers did that—with horizontal directional rigs, to be specific.
I'll discuss it more in a minute, but want to mention a couple of other interesting projects.
Up in Vancouver, British Columbia, drilling engineers have unleashed a mechanical tunnel boring machine to burrow under the Fraser River for 2⁄3 of a mile. The water main installed there will more than double the capacity of the older water main. In addition, it's designed to withstand earthquakes. The $240 million Port Mann Water Supply Tunnel project could come on line as early as next year.
"Few people will see this massive construction project first hand, but hundreds of thousands of residents will benefit," Metro Vancouver board chairman Greg Moore told the Peace Arch News.
Last fall, I wrote about a Utah water project. Drillers working just north of Provo, Utah, had installed several high-capacity wells. Each was good for 6,000 gpm. Production on those wells hit levels that had project engineers reconsidering the number of wells to install. Those wells form the basis of a system designed to quench the water needs of hundreds of thousands of people.
"They have a whole new source of drinking water," Steven Bryan, rig manager on the project, told me.
Drillers did that.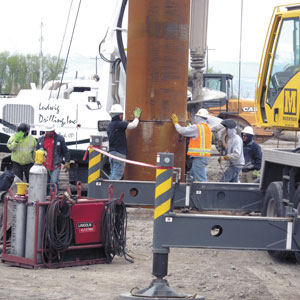 Crews set the surface casing on one of several wells on the site of the former Geneva Steel Mill property in Vineyard, Utah, just north of Provo. Wells on the site delivered a staggering 6,000 gpm. Source: Central Utah Water Conservancy District
One hundred and ten years ago, drillers and blasters made their way under the East River and Hudson River to get trains to New York's Penn Station. Conditions, by all accounts, were awful. Many workers died in the process. And the drillers made about $9.40 an hour in today's wages for backbreaking work and the high potential for getting the bends or drowning during tunnel failures. Between the four tunnels dug over just a few years, workers built 7 miles of tunnels.
Drillers did that.
I attended the Horizontal Drilling USA Extended Laterals Congress 2014 recently in Houston, a conference all about the distance drillers can drill horizontally from a gas or tight oil pad. It brought together drillers, engineers and executives working in the Permian, Bakken, Marcellus, Woodford and other formations to trade ideas and network.
"The definition of a long lateral has changed over the last two years," Don Robinson, vice president of Range Resources, told the crowd.
He asked attendees to raise their hands to indicate the maximum distance from kick off they'd drilled. He started at 3,000 or 4,000 feet and went up from there, watching hands drop as he passed 10,000 feet, then 11,000. The longest in the room? More than 15,000 feet. That's half the height of Mount Everest.
Drillers did that. And, from what I heard, 10,000 feet from a pad is fairly common these days, depending on the formation.
Back to Mississippi, drillers from Ranger Field Services using two Vermeer D330x500 rigs met halfway, 115 feet below the river's mud line. In all, the project spanned 7,700 feet and, in addition to running under the river, also went under two U.S. Army Corps of Engineers levees—significantly complicating the work.
Drillers performed all these hard-working feats. The more I learn about drilling, the more I look on in amazement. Those working in the field may yawn. It's all part of a good-day's work. But, Moore's right: Few people see it. Whether it's energy, construction, water, or oil and gas, the drilling trades are mostly invisible to the average person. They reap the benefits, but drillers just do the work and go on to the next job.
The drillers I've met are largely modest people. But I encourage drillers to speak up. Let people know about the job you're working on and the projects you've finished. There's no reason not to and what you do is quite a bit more interesting that, say, banking. Let friends and relatives know, and let me know. Send your stories,  ideas and (for the bankers reading this) hate mail to verduscoj@bnpmedia.com.
 Stay safe out there, drillers.