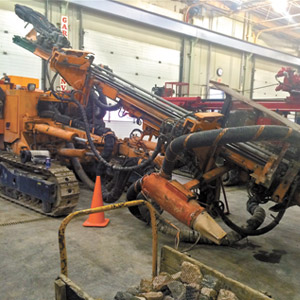 Fleming College features a state-of-the-art service facility where students get first-hand experience maintaining the rigs they'll use in the job market. Source: Brandon Wronski 
Surrounded by serene lakes and winding rivers is Lindsay, Ontario, home to a very advanced and unique drilling school: Fleming College's Resources Drilling and Blasting program. It is the only program of its kind in the world, offering an impressive combination of technical training and hands-on experience in all sectors of the drilling industry.
With strong connections in the industry, the program has been placing graduates in positions throughout North America and around the world for nearly three decades. Faculty members report that employment requests for graduates often exceed the number of students completing this program.
The practical training available in the program opens up opportunities for students in at least 10 global industries for potential employment, including: geotechnical, environmental, blasthole drilling, blasting, mineral exploration and mining (surface and underground), horizontal direction drilling, geothermal, water wells, construction drilling, and oil and gas industries. Students get to work on a full range of drilling equipment in five service bays. Four specially equipped classrooms in the facility include everything from a drilling simulator to drilling labs. Classroom sessions are complemented by hands-on drilling activities, including work in some of the local quarries. The program also covers an introduction to the growing geothermal industry.
It was the subject of geothermal that brought the guys from RigKits out of North Carolina to visit the college in late November. Simon Duck, CEO of RigKits Drilling Equipment, was invited to speak as a guest lecturer on geothermal drilling basics, technologies and industry trends. Students were eager to listen and interact with Duck, an industry leader who has enjoyed over 30 years of experience in the drilling trade and has pioneered innovative drill rig engineering and design. The lecture included a historical look at the development of the drill rig in the geothermal field, principles of GeoExchange, an overview of geothermal drilling methods, and insights into where the industry is headed.
Students were invited to offer ideas as to how to make geothermal systems even more viable. Duck explained that reducing the cost of installation must be a priority. While the cost of most materials and heat pump equipment is fairly fixed, there is flexibility when it comes to the drilling unit. Capital costs can be reduced by utilizing compact drilling rigs. Limited access machines are more cost effective to purchase, transport and maintain. Additionally, compact equipment reduces site impact and site clean-up. This user-friendly equipment increases drilling efficiency, thereby further reducing drilling costs. The students had to opportunity to gain practical insights into the industry during the Q&A session with Duck following the lecture. 
Program coordinator Steve Wilkinson and faculty member Gord Bailey guided us on an informative tour of the facilities, which included classrooms, labs, a student drill site and state-of-the-art equipment service facility where students gain hands-on experience maintaining and servicing various types of drilling rigs and equipment. The school's prestigious reputation is well deserved: Employers in the industry know that graduates of the program have a good foundation of theory and practice, and have excellent, transferable skills to draw upon for any challenge in the workplace.
Equally impressive is that a large portion of the campus is supplied with geothermal heating and cooling from multiple boreholes actually drilled by students. With limestone formations up to 17 feet below grade, students efficiently drilled the overburden with solid stem augers and completed the remainder of the 400 foot wells with down-the-hole hammers. The geothermal installation along with other "green" initiatives contributed to the Ontario government recognizing Fleming College as an "Outstanding Leader in Sustainable Energy Practices" in 2005. The Environmental Technology Wing at Frost Campus was rated one of the most energy efficient commercial buildings in Canada.
 Simon Duck and the RigKits team greatly enjoyed interacting with the students and seeing firsthand their passion for drilling. If knowledge is power, then the Resources Drilling and Blasting program at Fleming College is empowering the next generation of drillers with the skills and expertise needed to succeed.