Few if any would dispute the vital importance of drill site safety. Unfortunately, it is sometimes overlooked, leaving workers and others on the jobsite exposed to risk. While it's been said that drilling is inherently dangerous, those risks can be greatly minimized. For example, driving can be extremely dangerous if the vehicle is poorly maintained, pushed past safe tolerances, or if the driver has not been trained and is careless. However, a defensive and conscientious driver with a well-maintained vehicle who heeds the rules of the road may never have an accident.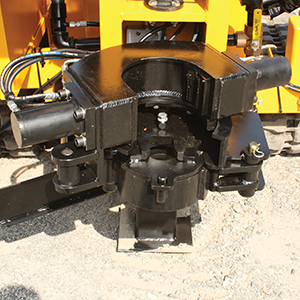 Hands-free clamping and breakout systems increase efficiency, productivity and, above all, safety. Source: Hammer Drilling Rigs
The primary goal and benefit of site safety is to protect the most valuable element on site — people. Their health and safety is paramount. But there are also fringe benefits in keeping them safe. Employee morale increases when practical safety measures are implemented and, as a result, productivity and efficiency do, too. For business owners, safety also carries with it financial benefits. Worker compensation claims, insurance costs and legal fees are minimized in a safe work environment. Prior to awarding contracts, it is common practice for a company's safety records to be closely examined, and contracts can be lost if worker compensation and accident claims are high. Indirect costs and losses, such as reduced productivity, can also be prevented.
One important step to achieving a safe working environment is training: basic safety training and project-specific safety training. Everyone should know what their roles are regarding safety. From the project manager to the field worker, everyone has a responsibility. Weekly on-site safety meetings to review various safety protocols and reminders contribute to a conscientious working environment. The time taken for these meetings is more than compensated for in fewer absences, less staff turnover and an improvement in work quality.
Manufacturers' manuals provide important information on the safe and proper use of tools and drilling equipment. Unfortunately, many don't have the patience to read through them. So they're tossed aside until there is a problem or, worse yet, discarded altogether. However, these manuals contain vital material that can be specific to particular components or applications. Dangerous operations and conditions can often be avoided by simply reviewing operator's manuals and following safety instructions.
Drilling technology continues to advance as effort is made to eliminate safety hazards associated with drilling, resulting in rigs that are much safer today than they were even just a few years ago. For example, engineers have developed hands-free clamping and breakout systems, automatic rod loaders and remote controls, just to name a few.
"Safety is a top priority for all equipment owners," says Elliott Duck of Hammer Drilling Rigs. "We engineer our equipment with the operator's safety in mind, but if proper procedures are ignored, even the safest equipment can become a potential danger."
Duck continues: "We look forward to visiting our customers and seeing the rigs in action. Safety is always the main focus of our training courses and cannot be emphasized enough."
A great training opportunity is through your drilling rig manufacturer. Some offer drill training at their facilities and industry events, running through safety and general operation of the equipment. Other manufacturers offer onsite training for the entire drill crew with a drilling specialist at your location — actually drilling holes with your rig. This type of hands on training is invaluable in learning the safest and most efficient operation of your rig.
Personal protective equipment (PPE) is necessary and should be required on every site. Head and foot protection should be worn by both drill crews and site visitors at all times. Equipment may require the use of eye, ear, hand and lung protection. Machines that have moving parts can be very dangerous and should have warning labels on pinch and crush points. Electrical safety warnings, fire hazards and the like should be carefully observed.
Mishaps are less likely when workers are alert and aware. So watch out for one another. Make sure everyone on site has proper training and is following the tooling and equipment manufacturer safety recommendations. By analyzing and adapting the way we work, we can make the drill site as safe of a workplace as possible.
---
Brandon Wronski is sales executive of Hammer Drilling Rigs, a North Carolina rig and equipment supplier. For more information, contact Brandon@hammerdrillingrigs.com or visit www.hammerdrillingrigs.com.