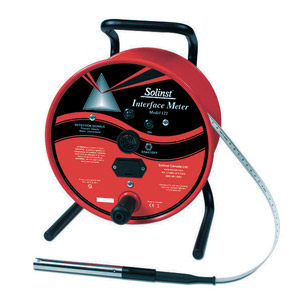 The Model 122 Oil/Water Interface Meter features a corrosion, chemical and stain resistant tape for easy decontamination. Source: Solinst
Solinst Canada has released its new Model 122 Interface Meter, which improves on both design and performance.
The Model 122 Oil/Water Interface Meter features a redesigned probe, reel electronics and a laser-marked PVDF flat tape, which improves reliability of readings and ease of use for measuring lighter (floating) non-aqueous phase liquids or denser (sinking) non-aqueous phase liquids in water.
The PVDF flat tape is laser-market at 1⁄100th foot increments and certified traceable to national standards. The tape itself is corrosion, chemical and stain resistant, making for easy decontamination between wells and tanks at refineries, landfills and other remediation sites. Tapes are available at up to 1,000-foot lengths.
The Model 122's 5⁄8-inch diameter probe is pressure resistant up to 500 psi, and uses optical refraction and electrical conductance to gauge product and water interfaces.
The reel electronics work off a single, easy-to-replace 9-volt battery, and powering on the unit gives it a quick, automatic circuitry test. The unit also powers down after 5 minutes of inactivity. It's ATEX certified and safe for use in explosive environments.
Solinst also has a 122M Mini Interface Meter available, which features narrow polyethylene flat tape on a compact reel.
 Solinst Canada Ltd. has served clients in the groundwater and surface monitoring sectors for more than 35 years. The company offers a range of loggers, peristaltic pumps, samplers and other equipment for hydrogeologists, hydrologists and other water professionals. For more information, visit www.solinst.com.