Canadian groundwater monitoring device manufacturer Solinst plans an event for drilling professionals called the 2013 Symposium on High Resolution, Depth-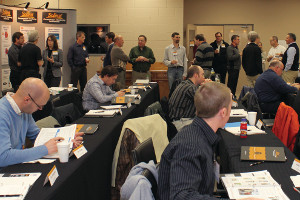 Solinst says people instrested in attending should register soon, since previous events have sold out.Source: Solinst
Discrete Groundwater Monitoring—Benefits & Importance.
The one-day event will feature in-depth presentations and discussions of tools and methods for monitoring. It will be held Nov. 7, 2013, at the company's Georgetown, Ontario, facility.
The speaker lineup includes:
Gary Wealthall of GeoSyntec Consultants. Wealthall will discuss the evolution of high-resolution tools for monitoring.
Patryk Quinn of the University of Guelph. Quinn's presentation talks about hydraulic testing for contaminants in sedimentary rock.
Richard Amos of the University of Waterloo. Amos' seminar focuses on the high-resolution gas pressure and concentration monitoring in the Diavik Waste-Rock Research Project.
Kent Novakowski of Queens University. Novakowski will discuss models for flow and transport in bedrock aquifers.
Jessica Meyer of the University of Guelph. Meyer's presentation discusses delineation of hydrogeologic units at a contaminated fractured sedimentary rock site.
The event closes with a roundtable discussion led by Wealthall on high-resolution tools, methodologies and applications.
To see a full agenda, including speaker biographies, and registration information click here. Registration can also be made by calling 905-873-2255. Solinst reminds attendees to register early, since previous symposiums have sold out.
Solinst Canada Ltd., based in Georgetown, Ontario, has served the groundwater and surface water monitoring markets since 1980. The company offers a range of instrumentation from water level meters to peristaltic pumps to samplers. For more information, visit www.solinst.com.