Atlas Copco this month unveiled its QAC 1200 1MW generator at Power-Gen International 2013 in Orlando, Fla.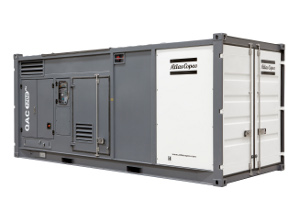 The QAC 1200 was adapted for the North American market from a similar model available in Europe. Source: Atlas Copco
The company built the North American product on a similar one designed for the European market, catering it to U.S. and Canadian specifications. Buyers can customize the QAC 1200 for high altitude or extreme weather, making it ideal for powering mining, oil and gas, and other projects.
"Customers don't need a piece of equipment; they need power," said Julio Tome, product manager for generators for Atlas Copco Portable Energy. "In order to deliver these key benefits and the peace of mind that comes with them, Predictable Power is ingrained in everything we do, from design, testing, building, to commissioning and maintenance."
The QAC 1200 draws power from a Tier-2 compliant Cummins QST30G5 diesel engine that provides 1,140 kVA/912 kW. Atlas Copco says the fuel efficient engine means a minimum eight-hour runtime. It says the generator is designed for 500-hour service intervals, which saves contractors expenses over its lifetime. The QAC 1200 also runs at an 85 dBA noise level at 1 meter, giving it an edge for sound-sensitive jobsites.
In addition, an optional Qc4002 controller allows two or more generators to run simultaneously, delivering more than 1 megawatt.
Other options available include a battery charger, coolant heater, alternator heater, external fuel supply and cold weather package.
Customers can purchase the QAC 1200 and use it as part of a rental agreement. For details, visit www.atlascopco.com/portableenergy.
Atlas Copco, based in Stockholm, Sweden, serves segments ranging from compressors and air treatment systems to construction, mining and drilling equipment. The company, founded in 1873, has more than 39,800 employees worldwide, and operates in more than 170 countries. Atlas Copco in North America operates in more than 109 locations and employs more than 4,500 people in the United States. For more information, visit www.atlascopco.us.