Atlas Copco will introduce an optional iT4-compliant engine for five of the company's underground loaders and one underground truck.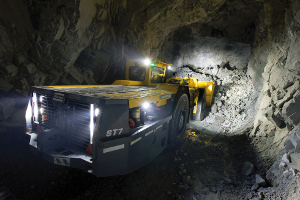 Five different Scooptram models will have the Cummins iT4-compliant engine as an option. Source: Atlas Copco
The Cummins iT4-compliant engines will soon be available on the following mining support vehicles: the Scooptram ST7, ST7LP, ST1030, ST1030LP and ST14; and the Minetruck MT2010.
The interim Tier 4 emissions standards bring engines for non-road diesel vehicles, like mine support vehicles and drilling rigs, in line with regulations that already apply to on-road tractor-trailers and buses. Interim Tier 4 engines improve fuel efficiency and drastically cut emissions. The Cummins-engine equipped Atlas Copco vehicles will offer 5 percent greater efficiency over a similar Tier 3 engine, the company said. The engines also improve torque response through a turbocharging system.
Cummins' iT4 engine features passive regeneration of the diesel particulate filter, which boosts machine performance. The engine also requires no diesel exhaust fluid, which cuts costs and means fewer production stops.
 Atlas Copco, based in Stockholm, Sweden, serves segments ranging from compressors and air treatment systems to construction, mining and drilling equipment. The company, founded in 1873, has more than 39,800 employees worldwide, and operates in more than 170 countries. Atlas Copco in North America operates in more than 109 locations and employs more than 4,500 people in the United States. For more information, visit www.atlascopco.us.