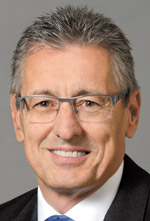 Leten
Atlas Copco reported healthy operating profit, revenue and orders received for the fourth quarter despite continued weak demand for mining equipment.
Fourth-quarter revenues decreased 4 percent organically year-on-year to $3.3 billion USD, the operating profit was $644 million USD and the operating margin was 19.5 percent (20.7).
"A mixed quarter ended the year," said Ronnie Leten, president and CEO of the Atlas Copco Group. "Demand for our industrial equipment was stable, and the service business continued on a positive path. The mining business continued to be challenging."
Important events during the quarter included the acquisition of Tentec, which provides bolt-tightening solutions, and Archer Underbalanced Services, a provider of down-the-hole hammers and compressed air packages to land-based oil and gas drilling companies.
Earlier this month, Atlas Copco completed the acquisition of Edwards Group, a provider of vacuum solutions. "We are pleased to welcome this world-leading company into our group. Together we will offer comprehensive industrial solutions to manufacturing customers," said Leten.
Atlas Copco also launched several new innovative products including small energy-efficient screw compressors, lightweight high-torque electric nutrunners that offer customers a compact power tool solution, an underground loaders for large operations and a compact material feeder for non-stop paving.
"We always look for ways to increase customer productivity," Leten said. "While we are keeping a close eye on costs, we continue to invest in state-of-the-art products and service as this will safeguard our future growth."
In the near term, the overall demand for the group's products and services is expected to remain at the current level. 
Atlas Copco, based in Stockholm, Sweden, serves segments ranging from compressors and air treatment systems to construction, mining and drilling equipment. The company, founded in 1873, has more than 39,800 employees worldwide, and operates in more than 170 countries. Atlas Copco in North America operates in more than 109 locations and employs more than 4,500 people in the United States. For more information, visit www.atlascopco.us.