Atlas Copco recently announced the release of a reverse circulation kit for the company's DM45/50 mid-range blasthole drill. The company says the kit adds a new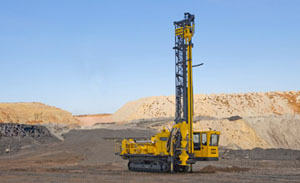 The new reverse circulation kit is sold as an after-market retrofit for existing DM45 and DML rigs. Source: Atlas Copco
dimension of in-pit grade control.
The kit is meant as a retrofit for existing drills. It includes a cyclone arm for with a vertical raise and lowering function, as well as rotation of 160 degrees for safe access during cleaning and maintenance. Key features of the cyclone assembly include:
·         Upper and lower knife valves for sample collection and isolation;
·         A hydraulic hinge between the dump box and cone splitter for easy cleaning;
·         A fixed-cone splitter with primary and duplicate sample chutes.
The operator has full cyclone and sample function control from the cab.
The sample collection feature includes a 66-liter dump box, with a steep cone that limits sample hang up. Primary and duplicate ports adjust from 4 to 15 percent. A carousel features 4½-inch rod cups with a full on-board capacity of 145 feet.
Other components of the kit include a blast box/discharge, blow-down valve that does not require external three-way valving or unnecessary hosing above or around the rotation head, an above-head dual swivel, and fully integrated hose management designed for safety.
The DM45 and DML (DM50) drills offer hole diameters ranging from 4½ inches to 5¾ inches, and maximum depths of 145 feet based off on-board capacity.
 Atlas Copco Drilling Solutions, based in Garland, Texas, manufactures and markets rotary drilling equipment to the surface mining, exploration, construction, and energy industries. Atlas Copco, based in Stockholm, Sweden, is a leader in segments ranging from compressors and air treatment systems to construction, mining and drilling equipment. The company, founded in 1873, has more than 39,800 employees worldwide, and operates in more than 170 countries. Atlas Copco in North America operates in more than 109 locations and employs more than 4,500 people in the United States. For more information, visit www.atlascopco.us.