I wrote last month in this space about the new www.thedriller.com. It's quite a change, and one I think moves in the right direction for serving our readers. This month, I want to write more broadly about technology, because "quite a change" has grown into the norm for so many industries, including the array of sectors in which drilling contractors work.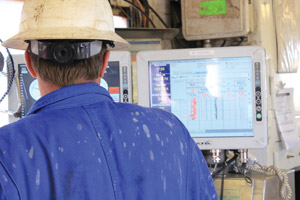 Drilling is high-tech, just like a lot of other lines of work. But a potential younger generation of drillers may not see it. Source: Lindsey Gira
Consider two stories in this month's issue, the latest dispatches from National Driller freelancer Holly Case and columnist Wayne Nash. The former, "Maersk Uses Pixels to Recruit Younger Drillers", discusses an innovative way to lure new talent. The latter, "Fracking, HDD Unlocked 'Unconventional' Bakken Shale," talks about how advances in engineering know-how freed up billions of barrels of oil from the Bakken formation. Both show how innovation makes change one of the few constants in the modern work world.
Maersk saw a problem: young talent avoiding the oil drilling industry. One of their bright executives probably saw a son or grandson playing Xbox and a geyser of ideas sprang up. "Quest for Oil" was born. The game works to pull in young engineers who might otherwise choose another line of work, according to Claus V. Hemmingsen, CEO of Maersk Drilling.
"There's still a picture of the oil industry as low-tech work with roughnecks who [face] the risk of life and limb," Hemmingsen says. "A modern drilling rig is a high-tech workplace with a high degree of automation, which imposes greater requirements for IT skills than muscle strength. Today, our drilling operation is done with joysticks from an air-conditioned cabin, and the operation is largely mechanized."
In his column, Wayne Nash takes a look at how far technology has come in the oil fields of North Dakota and elsewhere. Yes, it's work that demands a lot of rig crews, in dedication to the job and safety. But it's also a profession that has gotten a lot better at doing what it does: getting oil out of the ground to meet consumer demand. The engineering, science and application of directional drilling techniques have put billions of barrels of oil within reach in the Bakken alone, Nash says. And there are plenty of other formations out there seeing the same results.
The common theme is ingenuity. People are a clever—drillers especially. If it's in the ground and there's a way to get at it, they'll figure it out. That applies whether contractors seek oil, water, geothermal sources or rare earth metals. Maersk shouldn't need a video game to attract talent, but if it helps show potential workers that drilling professions use as much brains as brawn, it'll be worth the work Maersk put into developing it.
Nash wraps up by saying the changes he describes are only the beginning. He's right. The need for resources in the ground isn't going away. But the supply might if Hemmingsen and other executives at resource companies fail to head off a graying workforce with young talent. We need drillers, and we need young ones in the pipeline, so pass the message along: Drilling contractors work hard, but they also use their heads and technology.
 Stay safe out there, drillers.