If you listen to the media, you'll hear a lot of horror stories about how bleak the job outlook is for young people. And while there are certainly some problems, the fact remains that certain industries are growing like crazy and can't find enough workers. The oil drilling industry is one that's particularly desperate for qualified workers, in part due to some misconceptions about the field. The Maersk group is trying some new strategies in hopes of changing minds and attracting new talent.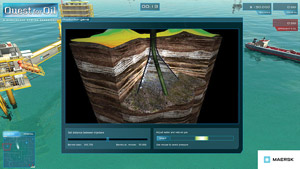 A Quest for Oil screenshot offers a preview of game play. Source: Maersk
Maersk is taking the new approach of trying to reach young people in a medium where they already spend a lot of time: online gaming. Maersk has created a game called "Quest for Oil," in which users can practice a simulation of being on a drilling rig in the waters off Qatar or in the North Sea with decisions to make about where to drill for oil, while taking into consideration time and expense.
The game is a way for people to get an overview of the complex issues involved in the drilling industry and the amount of strategy and precision required on the job.
"New times call for new measures, and we want to use the computer game to tell the story of an extremely innovative business, one which the entire world depends on, in a new and engaging way," said Claus V. Hemmingsen, CEO of Maersk Drilling. "We wish to engage in dialogue about our oil and energy business through [gaming] and at the same time give all interested the best opportunity to explore the underground."
The game combines both marketing and education. "The Quest for Oil game is a great way to learn how the industry works," Hemmingsen said. "Players learn about the layers of the earth, how complex it is to access oil and what makes this business so competitive. To create interest with young people regarding our company and career opportunities is definitely the way forward."
Maersk and the oil industry in general have good reasons to step up their efforts to recruit new talent. "The industry in general is facing an aging workforce: 34 percent of the industry workforce is above the age of 50. Maersk Drilling is like other oil industry players facing a challenge known as the global generation gap. A large percentage of experienced employees in the industry are scheduled to retire in the coming years, without enough qualified people being available on hand to fill their positions," Hemmingsen said.
In addition to hoping to recruit new workers, Maersk also hopes to repair many of the public perceptions of the oil industry that it feels are inaccurate and misinformed. One reason that many young people are overlooking the opportunities to be found in drilling is a misperception that it's low-skilled work that requires back-breaking manual labor. Hemmingsen hopes that the Quest for Oil game will help to convince them otherwise.
"There's still a picture of the oil industry as low-tech work with roughnecks who [face] the risk of life and limb. It is far from the reality we have on drilling rigs today. Safety is a dominant factor in everything we do. A modern drilling rig is a high-tech workplace with a high degree of automation, which imposes greater requirements for IT skills than muscle strength. Today, our drilling operation is done with joysticks from an air-conditioned cabin, and the operation is largely mechanized," Hemmingsen said.
Maersk is reaching out beyond the game as part of its efforts to convince young people that a career in the drilling industry can be both interesting and lucrative. "Maersk Drilling is a rapidly developing company and we are at the technological forefront. We have to tell that story—especially on social media—to attract more people to the industry in general and to Maersk," Hemmingsen said. The effort seems to be paying off already: Hemmingsen says that they're seeing a growing interest in their company and especially in their drilling trainee programs.
 Matching the interests of today's young people with the job fields where they're needed is a smart recruitment strategy. With any luck, the industry will attract the new talent it needs to keep up with the future.