I recently offered my congratulations to a company celebrating 40 years in business. This week, I'm back to recognize another company with an important milestone. Gus Pech, the longtime manufacturer of equipment, shipped its 200th bucket rig to Gingerich Well & Pump Services on May 9.
The company's bucket rigs are truck-mounted and feature a turntable designed to excavate large-diameter wells. Gingerich Well & Pump, according to Gus Pech co-owner Cris Collins, plans to use their "Super George" rig for a new venture.
"They saw the need for large diameter water wells for irrigation," Collins said. Gingerich is based in Kalona, Iowa, which keeps this milestone rig in Gus Pech's home state (the company's based in Le Mar, Iowa). Collins says that center-pivot irrigation in parts of Iowa, like many areas of the United States, is becoming more common. That, in turn, drives demand for the company's bucket rigs.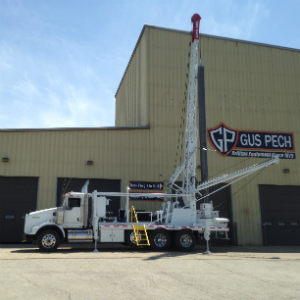 Gus Pech has commercially produced hydraulic rigs since 1973. Source: Gus Pech
"It just kind of worked out this way," Collins said of the rig's sale to an Iowa-based company. He does admit, though, that they used that fact as an enticement for the customer, which originally considered buying used.
"You guys are going to be our 200th," he told them.
Gus Pech manufactured its first hydraulic rig prototype in 1972. A year later, it stopped producing mechanical rigs and went straight hydraulic. It custom makes rigs to spec, and works to involve the customer in every step of the process from order to delivery.
"This bucket rig, or 'Super George' as we call it, has been around a long time," Collins said. The company patented an early version of the technology in 1876. Collins and his brother, Gregg, co-own the company they bought from their father, Robert Collins, in 1986. Their grandfather, W.O. Collins — a salesman, bought the company from the widow of its namesake, Gus Pech.
Gus Pech makes equipment to work in rotary/auger, sonic, geothermal and dewatering. It ships products throughout the world for everything from small residential jobs to large-scale industrial projects. For more information, visit www.guspech.com.
So, send your friends at Gus Pech a message and congratulate them on this big achievement. Maybe they'll invite you to the picnic they plan to have this summer to celebrate.
As always, stay safe out there, drillers.