The lead story for November's issue had me feeling small. Sure, a lot of people read this blog, and even more find an issue of National Driller in their hands each month. It gives a guy a certain confidence that thousands of people potentially read what he writes. But I've never reached the lives of *hundreds* of thousands. That's exactly what Steven Bryan and other Hydro Resources drillers did on a recent project in Utah.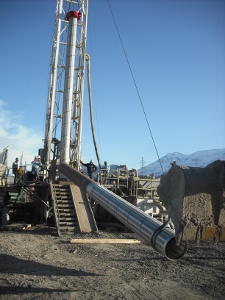 Hydro Resources crews hoist casing for installation into one of the wells at the High Head Wells project in Vineyard, Utah. Source: Steven Bryan
Hydro bid on a job to install 14 large-diameter wells on an old steel mill site in Vineyard, Utah. The well field would feed aqueducts and pipelines to supply drinking water to a wide swatch of central Utah — hundreds of thousands of people.
"It's the future of water resources in this area," Bryan told me. And it's a future of abundance.
Original estimates put production for each 24-inch well at 3,500 gpm. Once installed, wells produced closer to 6,000 gpm. That's quite a difference. Water won't throttle the area's growth, since residents and businesses no longer solely rely on the whims of the arid western climate.
It's heartening to see. Water can prove a big, and divisive, issue in the western United States. Water well drillers solved the problem for this part of Utah. A resource — in this case, water — came up short for people, and drillers could get at it better than anyone else. It's no different for oil and gas, coal, precious metals and ores, or geothermal energy. People need it, drillers go to work getting it.
Kudos to Bryan and his crews at Hydro Resources. I'm sure they have a happy customer in the Central Utah Water Conservancy District. People of the area may not realize the difference Hydro drillers had on their lives, but those drillers know. That's the important part.
Stay safe out there, drillers.