Look, it's the thing that unites all drillers: the well from hell. It's scary AF. (Ed. note: Can we say that?) But, don't fret. In this episode, we talk with well guru Edd Schofield, regional sales manager for Johnson Screens, about how to avoid the dreaded, scary well from hell. 
Schofield says the pro tips are "communication, preparation and execution," but what exactly does he mean? Watch to find out. 
The Driller columnist Jake Fletcher also stops by to discuss the water savings of switching to turf. 
Beware: This episode also features special Halloween guests. You've been warned. 
This episode covers: 
Well planning and siting 
Disposal of fluids and cuttings 
Well permitting 
Setting up a well drilling jobsite 
Well disinfection, cleaning and proper completion 
The importance of good mix water 
Critical ways to document drilling and construction work
Water savings from switching to turf for sports fields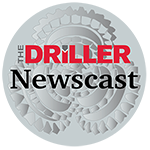 Click the right-hand menu for download options
Thanks for joining us. Tune in each Monday morning for the latest video or podcast. Whether you're at your desk or on the way to the jobsite listening in the truck, start your week with us. You can also find our show on Apple Podcasts and Spotify.
Drilling expert Brock Yordy is a regular The Driller contributing writer. Send news tips and interview suggestions to questions@askbrock.com.

This episode of The Driller Newscast is brought to you by Johnson Screens.