For this week's featured guest, we welcome back Jeff Williams of Spafford & Sons Well Drilling. The driller and former National Ground Water Association president talks to host Brock Yordy about making the case for groundwater to U.S. Senators. Both Williams and Yordy attended the NGWA's recent Legislative Fly-In.
"I don't know that our industry understands that you have to be a consistent resource," Williams says. "You can just be there when we've got this huge issue we're facing. We have to be a consistent resource and be proactive. … The more proactive we are, the less issues we have to react to down the road."
In our news segment, we welcome Dave Schulenberg, director of partner states for the NGWA. He manages day-to-day operations for six state groundwater associations: California, Illinois, Kentucky, Michigan, Minnesota and Montana. Schulenberg talks to us about the 3M settlement in Minnesota, PFAS, and other concerns for private water well installers and users.
This episode covers:
April 28 marks Workers' Memorial Day or International Commemoration Day for Dead and Injured
Recognizing the anniversary of the Occupational Safety and Health Act of 1970
The formation of the Occupational Safety and Health Administration in 1971
Honoring workers injured or killed on the job
Recapping NGWA's Legislative Fly-In with Jeff Williams
Taking the Message of Groundwater to U.S. Senators
Relief for contractors on CDL requirements
PFAS and other "forever" chemicals
The PFAS settlement between 3M and Minnesota
Pipelines vs. other solutions for contaminated groundwater, water supplies
▶ Listen now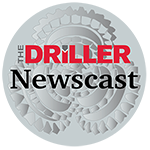 Click the right-hand menu for download options
Thanks for joining us. Tune in each Monday morning for the latest video or podcast. Whether you're at your desk or on the way to the jobsite listening in the truck, start your week with us. You can also find our show on Apple Podcasts and Spotify.
Drilling expert Brock Yordy is a regular The Driller contributing writer. Send news tips and interview suggestions to questions@askbrock.com.