In this episode, anchor Brock Yordy talks to Huug Eijkelkamp, CEO of Royal Eijkelkamp. The more than century old Dutch company has undergone several transformations from blacksmith shop to sonic drilling innovator. They cover everything from drilling, CPT and sonic to the future of the industry. It's Driller Newscast episode 33.
"We've paid a lot of what I call 'expensive learning' money," says Eijkelkamp, the fourth generation of the family to own the company. "But it's also making us who we are today."
This episode covers:
Tips for awareness, avoidance of common injuries
Breaking down drilling risks: struck-by, caught-in-between and over-exertion
Sonic drilling
Sonic drilling's efficacy in different formations
The history of sonic drilling
Drill rod handling
The importance of rare earth minerals for batteries, electronics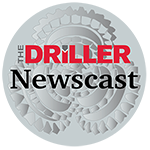 Click the right-hand menu for download options
Thanks for joining us. Tune in each Monday morning for the latest video or podcast. Whether you're at your desk or on the way to the jobsite listening in the truck, start your week with us. You can also find our show on Apple Podcasts and Spotify.
Drilling expert Brock Yordy is a regular The Driller contributing writer. Send news tips and interview suggestions to questions@askbrock.com.