In episode 19, anchor Brock Yordy runs down the importance of sunblock to your safety arsenal, then interviews National Ground Water Association (NGWA) President Brian Snelton about education and serving the industry.
"I encourage more people to get involved in their state- and national-level organization," Snelton says. "You get that reward of talking to other people and helping. … We need volunteers. We need people to get involved. I encourage you to do so. A lot of people think it's a lot of time, but it's an hour here and there and, for the industry, it's well worth our time."
This episode covers:
The importance of sun block for people working outdoors
The recent West Virginia vs. EPA decision from the Supreme Court
The upcoming Sackett vs. EPA case before the Supreme Court
The National Ground Water Association (NGWA)
Balancing your business and service to the industry
Getting young people into the drilling and groundwater industry
A preview of Groundwater Week 2022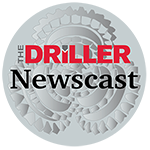 Thanks for joining us. Tune in each Monday morning for the latest video or podcast. Whether you're at your desk or on the way to the jobsite listening in the truck, start your week with us. You can also find our show on Apple Podcasts and Spotify.
Drilling expert Brock Yordy is a regular The Driller contributing writer. Send news tips and interview suggestions to questions@askbrock.com.