This episode features emergency action plan tips for drilling companies, updates on PFAS and an interview with North Dakota driller Adam Sorenson of S&S Drilling. It's episode 3 of our new weekly news program, The Driller Newscast, with anchor and drilling expert Brock Yordy.
"You can overcome any situation through patience and determination," Sorenson says.
We also have an interview Cathy Wusterbarth of the group Need Our Water in Oscoda, Michigan, a community impacted by PFAS contamination linked to a now-decommissioned Air Force base in the area.
This episode covers:
PFAS, PFOA and other "forever chemicals"
How PFAS and other forever chemicals affect groundwater and wells
States with regulations on PFAS in drinking water
EPA guidance on PFAS and other forever chemicals
Discussing PFAS remediation plans and bans
The pros and cons of working in a family company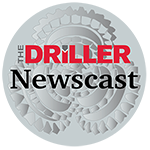 Thanks for joining us. Tune in each Monday morning for the latest video or podcast. Whether you're at your desk or on the way to the jobsite listening in the truck, start your week with us.
Drilling expert Brock Yordy is a regular The Driller contributing writer. Send news tips and interview suggestions to questions@askbrock.com.