On this week's episode, anchor Brock Yordy talks about the recent $1.18B PFAS class-action settlement with DuPont, Corteva and Chemours. The companies will set up a fund to compensate public water systems over the impact of PFAS and other "forever" chemicals. Plus, in this week's safety segment, we challenge contractors in this year's Trench Safety Stand Down.
"These dollar amounts are a drop in a bucket, literally a 4 ppt drop," Yordy says. "The American Water Works Association study states that 4 ppt treatment could cost $3.8 billion annually. The EPA estimates that one-third of American are affected by PFAS contaminated drinking water, about 90 million (people)."
Stay with us for more coverage as 3M goes to trial over PFAS liability claims.
This episode covers:
The 2023 Trench Safety Stand Down Week
Tips for trench safety
Western droughts and their effects on economic growth
Arizona's limitations on Phoenix's expansion over groundwater access
Major class action settlement with DuPont, Corteva and Chemours
Remediation and removal of PFAS, other "forever" chemicals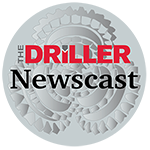 Click the right-hand menu for download options
Thanks for joining us. Tune in each Monday morning for the latest video or podcast. Whether you're at your desk or on the way to the jobsite listening in the truck, start your week with us. You can also find our show on Apple Podcasts and Spotify.
Drilling expert Brock Yordy is a regular The Driller contributing writer. Send news tips and interview suggestions to questions@askbrock.com.