Do you roll your eyes at news for "regular" people? Do you wish you had a news program by, for and about drillers? Well, welcome to our first episode of The Driller Newscast. This new show features drilling expert Brock Yordy offering safety tips, and news important to drillers and the drilling industry. We'll also include interviews with the hard-working people who keep us turning to the right.
Thanks for joining us. Tune in each Monday morning for the latest video or podcast. Whether you're at your desk or on the way to the jobsite listening in the truck, start your week with us.
This episode covers:
Trench and excavation safety for drillers.
Supreme Court ruling on Tennessee/Mississippi water rights battle.
Artesian flow spill in Minnesota capped.
Nitrate levels in Oklahoma water.
Listen to today's episode to hear more.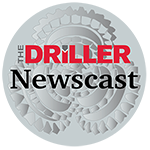 Drilling expert Brock Yordy is a regular The Driller contributing writer. Send news tips and interview suggestions to questions@askbrock.com.
Want More of The Driller Newscast?