Rockmore International is introducing the first down the hole (DTH) hammer in its new line, the ROK 600T.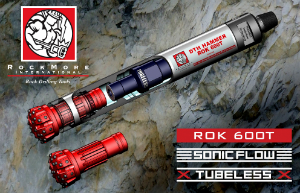 The T series is "tubeless," as the name suggests, utilizing bits without plastic blow tubes. The DTH hammers use industry bit shank connections without the  plastic component in the bit. Source: Rockmore International
The 6-inch class model, like the rest of Rockmore's T series hammers, uses drill bits with standard shank connections that don't have embedded plastic parts often referred to as foot valves or blow tubes.
"We recognized a trending demand in theDTH drilling sector for a high performance DTH tool that could utilize industry standard drill bits without plastic componentsin order to increase reliability yet not compromise drilling efficiency," says Pejman Eghdami, executive vice president of Rockmore International.
Although this doesn't mark the first time tubeless bits have been offered on DTH hammers, Rockmore International says its T series will be more widely available and applicable than others that are proprietary in design.
"With our emerging T class DTH hammers, we are offering the drilling community a balanced solution of improved reliability without compromising any drilling performance. And, impressively, we have achieved this by incorporating standard industry shank connections into the overall design concept," Eghdami says.
Without the traditional plastic components from the bit shank section, foot valve/blow tube breakage while drilling is avoided, saving the time it takes to retrieve the hammer from the hole for bit replacement.
In addition to the tubeless feature, the ROK 600T includes Rockmore's patented SonicFlow technology that optimizes and ultimately brings increased energy to the piston by minimizing back flow and turbulence. The technology's ability to simplify and streamline the air paths has been shown to increase DTH hammer efficiency and penetration rates.
The ROK 600T has drilling characteristics rated for drilling 6.1- to 7.0-inch diameter holes for blasthole applications in mining and construction. It can also be used for water well drilling.
As a T series design feature, the ROK 600T accepts the industry established bit shank model QL60. The bits are readily available from established supply channels in the mining, construction, and water well markets.
Rockmore International is a global manufacturer of rock drilling tools, serving the mining, construction and waterwell sectors for more than 65 years. For more information, visit www.rockmore-intl.com.