Atlas Copco's B7-41/1000 Hurricane boosters achieve high drilling penetration rates, while leaving behind small equipment footprints.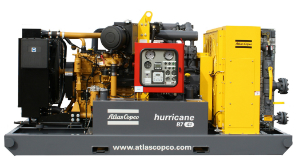 Atlas Copco's B7-41 Hurricane booster generates as much as 1,000-psi discharge pressures to power down-the-hole hammers. Source: Atlas Copco
They are designed to increase oil and gas drilling efficiency.
The boosters can reach more than 2,000 cfm flow at maximum 1,000 psi, helping push water back up the borehole from hundreds of feet below. The powerful output diverts underground water away from the drill bits. This helps down-the-hole air hammers power through rock efficiently by reducing water pressure in the borehole.
The boosters utilize a 7-liter engine and 4-cylinder reciprocating pumper. Once discharge pressures are generated gas is piped underground to push air hammers through dense rock formations. The Hurricane boosters have open-skid body designs, giving mechanics easy access to engines and valves for maintenance.
Caterpillar C7 Tier 3 and C7 Interim Tier 4 engines are available for the B7-41, which is available in three models.
Single point lifting and fork lifting slots allow drillers to easily transport units to service sites and around drill pads. The boosters are offered in containers that make them easy to move and keep dust-free on flatbed trailers, railcars and in cargo ships. Atlas Copco also offers two cold weather kits that make it possible to start in temperatures as low as 20 degrees below zero.
Other optional features include digital control panels, a range of service packs, automatic scrubber drain valves and inlet particle filters.
Atlas Copco, based in Stockholm, Sweden, serves segments ranging from compressors and air treatment systems to construction, mining and drilling equipment. The company, founded in 1873, has more than 40,000 employees worldwide, and operates in more than 180 countries. Atlas Copco in North America operates in more than 109 locations and employs more than 4,500 people in the United States. For more information, visit www.atlascopco.us.