The Boltec S from Atlas Copco is fully mechanized and designed to function well in smaller tunnels and mines.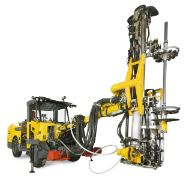 The Boltec S is mounted on an articulated four-wheel drive carrier powered by a 4-cylinder, EPA Tier 3-approved diesel engine. Source: Atlas Copco
The rock bolting drill rig can place bolts 5 to 8 feet long in spots with roof heights of 9 to 25 feet.
It features Atlas Copco's Rig Control System (RCS), giving it precision and efficiency while drilling, bolting and positioning. Drillers have a choice of controlling operations using a COP 1132 or a COP 1435 hydraulic rock drill. The operating panel includes two multi-functional levers.
A new resin injection steering system, controlled from the operator panel, can load resin or cement grout cartridges into a pre-drilled hole without having to move the entire bolting unit.
Atlas Copco claims that, with a feed dead length of 3 feet 7 inches and a low cabin, the rock bolting drill has the best operating height in its class for restricted working areas in tunnels and mines.
Mounted on a four-wheel drive carrier, the Boltec S is powered by a 4-cylinder EPA Tier 3-approved diesel engine. It has single tripod suspension using the BUT 32 heavy-duty hydraulic boom and the rated capacity of its compressor at 5,400 rpm is 42 cfm at 101 psi.
Atlas Copco, based in Stockholm, Sweden, serves segments ranging from compressors and air treatment systems to construction, mining and drilling equipment. The company, founded in 1873, has more than 40,000 employees worldwide, and operates in more than 180 countries. Atlas Copco in North America operates in more than 109 locations and employs more than 4,500 people in the United States. For more information, visit www.atlascopco.us.