The organic order growth was 1 percent. Revenues reached $4.23 billion USD and the operating profit was $787 million, corresponding to a margin of 18.6 percent.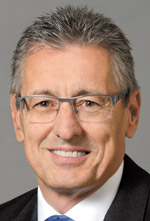 Leten
The improved margin is, in part, the result of further efficiency measures, says Ronnie Leten, president and CEO of the Atlas Copco Group. "It is encouraging to see a positive demand development from the manufacturing industry, and that the order intake for mining equipment has stabilized."
Year-on-year, orders received in the second quarter increased 11 percent to $4.25 billion. The increases are connected to improved demand from the manufacturing industry and acquired businesses.
A new regional distribution center was opened in Shanghai during the second quarter. It will be the hub for logistics activities in the surrounding region.
"Our service business continued to grow and more customers in more locations now benefit from our broad service offering," Leten explains.
In May Atlas Copco acquired a compressor business in the U.S. with about 120 employees. Then in June, the group was ranked number seven globally in the Newsweek Green Rankings.
The overall demand for Atlas Copco equipment and service is expected to increase in the near term.
Atlas Copco, based in Stockholm, Sweden, serves segments ranging from compressors and air treatment systems to construction, mining and drilling equipment. The company, founded in 1873, has more than 40,000 employees worldwide, and operates in more than 180 countries. Atlas Copco in North America operates in more than 109 locations and employs more than 4,500 people in the United States. For more information, visit www.atlascopco.us.