Jerry Almanza of Ditch Witch of Central Texas has been awarded the 2013 Ditch Witch Harold Chestnut Award.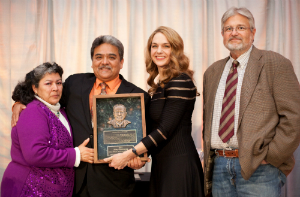 Jerry Almanza, second from left, accepts the award with Elvira Almanza, Tiffany Sewell-Howard and Wayne Orender Jr.
Every year the award is presented to the Ditch Witch parts marketing manager who embodies the service, enthusiasm and dedication of Harold Chestnut, a former parts manager of more than 30 years.
Almanza fits the criteria perfectly, according to Wayne Orender Jr., dealer principal at Ditch Witch of Central Texas. "He's steeped in Ditch Witch parts knowledge and daily works to provide our customers with peace of mind — and his optimistic attitude is contagious. Jerry is most deserving of this award and we are all very proud of him."
Almanza joined the team at Ditch Witch of Central Texas parts department in 2000. The retired first-class sergeant of the U.S. Army has attended Ditch Witch Bronze, Silver and Gold Parts Pro Schools. He received his Gold graduation pendant this year.
Ditch Witch of Central Texas has been supplying the underground construction equipment market for 40 years. For more information, visit www.ditchwitchctx.com.
Ditch Witch brand directional drills, trenchers and other products are manufactured by Charles Machine Works at a facility in Perry, Okla. The family-owned company, founded in 1949, focuses on three principles: honesty, hard work and giving customers the best product in the world. For more information about the Ditch Witch, visit www.ditchwitch.com or call 800-654-6481.