Ditch Witch has released a new mud recycler — the only one on the market that can be transported filled with fluid, according to the company.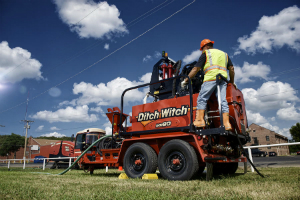 The Ditch Witch MR90 features an automatic pump shutoff that prevents overflow. Source: Ditch Witch
The MR90 was designed with cost-efficiency in mind. It makes for a comparably quicker setup time, features remote controlled hydraulic functions and comes with an automatic pump shutoff that prevents overflow.
The self-contained mud recycler can mix and recycle drilling mud and handle spoils. Its two-screen system and six 2.5-inch hydrocyclones provide clean mud for reuse. The screens are designed to be easy to change and service, and they can be hydraulically adjusted to separate spoils.
For fast setup, the MR90 uses hydraulic leveling for the screens and hydraulic jack on the tongue of the trailer. It also features a compact cleaning package capable of meeting the demands of directional drilling jobsites.
Optional remote control of pumps makes the job easier for small crews and an automatic pit pump control utilizes a float sensor, turning the pump off when the mud recycler is not manned.
Ditch Witch brand directional drills, trenchers and other products are manufactured by The Charles Machine Works at a facility in Perry, Okla. The family-owned company, founded in 1949, focuses on three principles: honesty, hard work and giving customers the best product in the world.  For more information about the Ditch Witch MR90, visit www.ditchwitch.com.