Aries Industries Inc. released a portable system for inspecting boreholes up to 1,200 feet deep. It can be operated by only one person, and although it is designed to monitor water well integrity, it can also support geophysical logging in oil and gas and mining applications.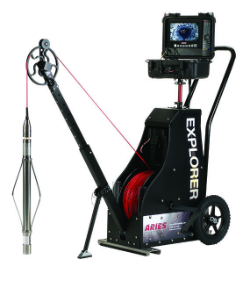 The Aries Industries borehole inspection system is mounted on a compact, easy to maneuver cart. Source: Aries Industries
The system is equipped with a 1.75-inch diameter camera that can effectively operate in boreholes from 2 to 16 inches in diameter. Some features of the dual-view camera are low-light sensitivity; manual focus; iris adjustment; 480 TVL lines resolution; an 86-degree, wide-angle, downhole view; and a 360-degree, continuous-scanning side view.
Either a 12 VDC rechargeable battery, 120 VAC/60 Hz or 240 VAC/50 Hz provides power to the system, all of which, including control unit, is mounted on a compact cart. The system also comes equipped with a forward-facing LED array with adjustable intensities. For inspecting boreholes larger than 16 inches in diameter, an optional LED pod is available.
Two models of the inspection system are available: one with 600 feet of Kevlar braided coaxial cable and one with 1,200 feet.
For more information, contact Aries Industries at 800-234-7205, or visit their website at www.ariesindustries.com.