Solinst Canada Ltd. released the Solinst Levelogger app, which is free to download and is designed to make water-level data collection and sharing convenient and efficient.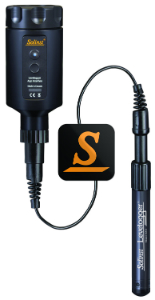 The new iOS app allows users to view data logs and email them. Source: Solinst
Using Levelogger's 3001 app interface, users can connect Levelogger to their iPhone, iPad, iPad mini or iPod touch using Bluetooth technology and then start and stop their Levelogger, download logged data, view real-time data and program their Levelogger with all the same programming options found on the Levelogger PC software, including linear, event and schedule sampling; future start and stop times; project, location and GPS inputs; and continuous and compressed memory options.
Users can view downloaded data logs on their smart devices and either email them or directly transfer them to their PCs to perform barometric compensation and other data adjustments, if required.
With the new Solinst Levelogger app and interface, users can now get the accurate water level data they need from virtually anywhere.
Solinst Canada Ltd. Has served clients in the groundwater and surface monitoring sectors for more than 35 years. The company offers a range of loggers, peristaltic pumps, samplers and other equipment for hydrogeologists, hydrologists and other water professionals. For more information, visit www.solinst.com.