Last month in this space, I started by saying "drillers have a lot to talk about." I went on to discuss a few projects I found interesting and to suggest that drillers should let people know about the projects they work on—the ones they take pride in. 
I didn't go into detail about the best ways to do that. I'm talking about the special projects, the ones you talk about with coworkers over beers. "Can you believe we actually got that crazy idea to work and closed the project two days early?" Those projects. 
Of course, contractors can bore friends and family with their on-the-job stories. We all do that, talking excitedly about this project or that project. Our friends and families listen and nod politely. But, it's not really friends and family that shape the future of our businesses, is it?
Document your Success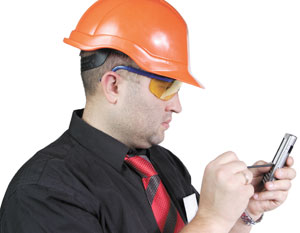 Contractors should have information on projects they've done ready to send to prospects. An easy-to-make project sheet is a great way to do that. Source: iStock
Let's revisit an idea I mentioned before: the project sheet. You may recall an interview I did in our October 2013 issue with architect Eric Corey Freed. He pushes the idea of project sheets for geothermal contractors as a way to promote their business among people who make decisions about whether geothermal fits into this building or that office complex. It's a simple idea that works, and works for a wide variety of businesses. 
A project sheet brings together all the important details of a project and who was involved in it. It boils the story down to one sheet of paper to make it easy to read and  features information about your company, who you did the work for, what the work means for the client, etc. It waits in a folder on your computer or, better yet, your smartphone, so when a prospective client asks about other jobs, you can pull it up and zap it to their inbox in seconds. 
Get the Words Right 
Know your strengths. Those may include running a business or a rig, but may not include writing. Writing isn't for everyone—I get it. But if writing isn't your thing (be honest, this is important), find someone who can do that for you. It may be your office manager or your nephew in college. Get help if you need it. 
Tell the story of the project: the whos, whats, whys, whens and wheres. Don't be afraid to use bullets, since they're easy to scan for busy people. Be brief. Include a quote or two, maybe from your on-site manager or, better yet, the people who spent money to get your services. End with a brief paragraph about your business. Where are you based? Are you a family business? How long have you been in business? What are your specialties? Include a phone number and email address. If your business is on social media, include that. 
I recommend writing in Microsoft Word. It's pretty easy to use and everyone has it. However, save your finished project sheet as a PDF. A PDF will look exactly how you want it no matter who you send the file to. 
Take Photos 
Photos sell the story. Make them big, but not huge. They need to complement the story, not draw attention away from it. 
It may seem obvious, but make sure the pictures are clear and interesting. Drill rigs and heavy equipment are interesting, yes, but people are more interesting. Show people using that equipment. Make sure your crew is presentable when you take pictures. Drilling can be dirty work, but a worker covered in drilling mud could make it look like your company runs sloppy projects. That's not the impression you want to give. 
Use a good camera. Yes, most Androids and iPhones take decent photos nowadays, but spend $150 on a nice SLR with a zoom lens. Take high quality photos and save a handful of them from each project. 
Include the Media 
Call your local newspaper. Today. In fact, call the newspapers and TV stations in all the areas in which you work. Ask for the number of the business editor and find out which reporter covers your industry. Then get the email addresses of both of them. 
When you finish each new project and its accompanying project sheet, send an email. Follow up with a phone call. Be polite, but insistent. "Did you see the latest project Smith Drilling finished for XYZ General Contracting in Smallville? This job was pretty interesting because ..." Always have a "because." I worked in newspapers for more than a decade, and news people love to hear about things that sound interesting or different. What made this project unique? 
The "because" can help your project sheet become a story in the newspaper. You think that'll generate more calls to your business phone? I do, too. 
I can't guarantee anything, of course. But communication, as a skill, isn't something everyone has. When people—the smart people who make decisions about contracts—see that skill in a contractor they might do business with, they notice. Prepare yourself to tell the story of your business and the projects you complete. 
Then, set yourself above the pack with a little bit of communication. 
Does your business already do this? Do you plan to after reading this? I'd love to take a look. Send me a message at verduscoj@bnpmedia.com.
 Stay safe out there, drillers. 
---
Correction
Due to an editing error, a photo with the story "Advanced Clamping Systems Increase Productivity and Safety" on page 24 of April's issue incorrectly described the clamps shown as hands-free safety clamps. The correct photo appears in the online version of the story. National Driller regrets the error.