Global water technology company Xylem released the CentriPro brand Aquavar pump controller at last month's National Ground Water Association 2013 Expo in Nashville, Tenn.
"The benefit of this intelligent VFD is that it helps groundwater professionals adapt quickly and efficiently to any application, whether that's standard day-to-day operation or not," said Joshua Allen, Xylem Applied Water Systems product manager for drives and controls. "With more than 20 years of variable speed pumping experience, the CentriPro brand once again builds on its history of easy start-up using pump specific-language with this more versatile, technologically advanced product."
The Aquavar's modular design controls speed, pressure, flow and level for a variety of submersible water pump and above-ground pumping applications. The company says it's compatible with a variety of building management systems, and offers open, indoor and outdoor enclosures.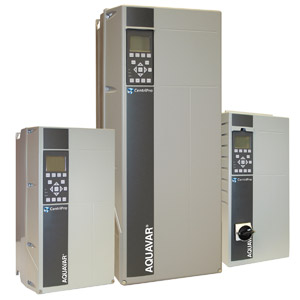 The CentroPro Aquavar comes in a range of sizes for different applications Source: Xylem
It features CentriPro's Start-Up Genie tool, as well as a large, backlit screen for easy reading. A customizable My Personal Menu lists the 20 most common parameters, all of which users can customize for specific pumping systems. In addition, the Aquavar has automatic motor adaption and automated energy optimization to improve efficiency under changing loads. It also guards against cavitation, dead head, circuit shortage, phase loss, overload, undervoltage and overvoltage over an application range of 1.5 to 125 horsepower.
Find out more at www.goulds.com/pump-controlers/aquavar.
Xylem also showed off several other new or updated products at the NGWA event, which attracts thousands of groundwater professionals each year.
"Xylem engineered its latest products to help businesses and municipalities stay ahead of the curve in ground water and wastewater applications," said Kyle Schoenheit, global product manager for Xylem's Applied Water Systems business unit.
Those products included:
• The e-HM stainless steel multistage horizontal pump from Xylem brand Goulds Water Technology. The company says the e-HM, designed for commercial and industrial uses, is up to 30 percent more efficient than competing pumps.
• The Goulds Water Technology 50L 6-inch stainless steel submersible pump for groundwater supply applications, which is marketed for municipal, irrigation and other high-supply uses. The 50L improves on early designs, reducing energy consumption.
• The CentriPro AquaStart soft starter, which features preset pump parameters, for residential, commercial and industrial applications.
• The Goulds HS 4-inch submersible pump, which has a crimped design for durability in even the harshest conditions.
"At Xylem, we understand that there is no such thing as one-size-fits-all in this industry and we are committed to working with our customers to design a solution that fits their own standards," Schoenheit said.
 Xylem, based in White Plains, N.Y., serves the public utility, residential, commercial and agricultural markets with a variety of pump and water treatment products. The company has about 12,500 employees worldwide. For more information, visit www.xyleminc.com.