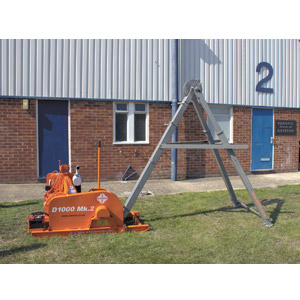 The Dando 1000 MK2 features an adjustable height mast derrick. Source: Dando Drilling International
Dando Drilling International launched the Dando 1000 shell and auger rig for geotechnical markets.
The company calls the Dando 1000 MK2 a compact, yet flexible, cable percussion rig designed so contractors can work with it in limited-access jobsites.
The shell and auger rig features a collapsible design and mast derrick with adjustable height, allowing operators to adapt it and position it in areas with low overhead clearance. Its Lister tr1 c/w reduction gear box delivers 6.7 kW at 1,800 rpm, and 9 brake horsepower. It can conduct U4 sampling, standard penetration tests and drilling to 46 meters using 4-inch casing and tooling. The 1000 MK2 can also use larger diameter casing and tooling to shallower depths.
Dando's 1000 MK2 expands on the company's line of geotechnical drilling rigs, which already includes the D2000, D3000 and Dando Terrier.
For details on the Dando 1000 MK2, visit www.dando.co.uk/dando-1000-percussion-drilling-rig.
 Dando Drilling International, based in West Sussex, England, manufactures rigs for water well, mining, geotechnical and geothermal markets. For more information, visit www.dando.co.uk.